This April, join College Mentors for Kids in recognizing our volunteers in honor of National Volunteer Month. Officially declared in 1974, National Volunteer Month is a time to reflect on the impact that volunteers across the country have had on their communities -- and College Mentors is no exception! Countless college student mentors have volunteered with our program since its creation, and many mentors have gone on to become leaders in their community, workplace, and even College Mentors itself. We are also fortunate to have volunteers join us later in life, inspired by their passion for mentoring. Read on for stories of a few wonderful volunteers who inspire us and continually give back and serve others.
Josh Wilson
Our staff recently had the opportunity to chat with Josh Wilson, VP of Programming at North Carolina State University, student board representative, and future pediatrician. Josh shared his insight into what makes volunteering with College Mentors for Kids so rewarding, especially during this year of remote programming.
"At the end of the day, I know I joined to be around kids, so whether it's in-person or virtual If there are still kids available to mentor, then I'm still in it."
Josh joined College Mentors while NC State's chapter was just getting off the ground. He knew that he wanted to be around kids and had previously volunteered with youth since his freshman year of high school. By volunteering for two hours a week, he has seen the effect it has on both mentors and little buddies.
"The biggest impact that I've come away with is that it is so easy to be consistent in a kid's life... It's so easy to show effort... It's so easy to show that you want to be here and be around these kids. That's the name of the game all the time. You're only here for two hours, and these two hours are going to have a massive impact on your little buddy's life."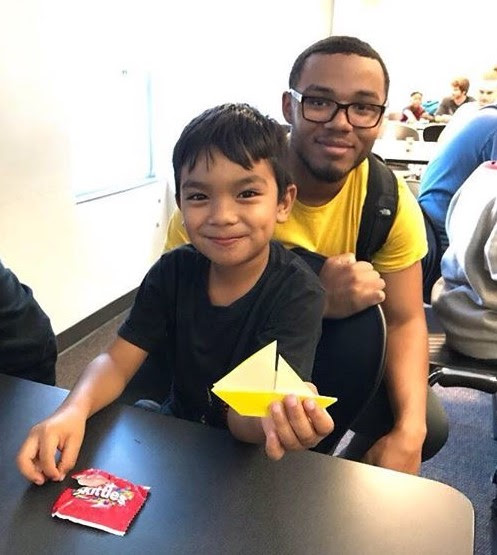 Taking his dedication a step further, Josh has also served as a student board representative of the College Mentors Board of Directors. This unique experience is admittedly different from working with youth after school every week. Josh said,
"What being [a student board representative] showed me is that I want to be here for the kids, but there are multiple ways I can be here for the kids. It all comes full circle; I like that it keeps me knowledgeable about everything that's going on, especially for an organization that means a lot to me."
As we reflect on this year's National Volunteer Month, we thoroughly enjoyed catching up with Josh. He's someone who has seen nearly all sides of the program, and has volunteered in every capacity with College Mentors, all during his busy four years as a human biology major at NC State. Along with Josh, we wish all of our soon-to-be graduates the best of luck in their upcoming endeavors. We want to stay in touch, so be sure to fill out the graduating senior survey so we can connect with you in your post-graduation future.
Dr. Jordan Arellanes
Another volunteer who shares his unique talents, knowledge, and passion for mentoring is Dr. Jordan Arellanes. Dr. Arellanes first learned about College Mentors after seeing a group of mentors and little buddies on Illinois State's campus during an in-person activity in 2019. He reached out to the national office, both to learn more about our mission and to share his background in psychology, human development, family studies, and mentoring. Since then, College Mentors has been working closely with Dr. Arellanes to enhance our program evaluation efforts which include revised pre- and post-surveys that better incorporate best practices and recent psychological research.
"As an undergraduate, I knew that I wanted to make a difference in families' lives, but I didn't really know how to. I completed an internship with College Connections, an academic mentoring program that would bring court- and school-appointed youth to a college campus. This program completely changed my trajectory as I learned firsthand just how impactful a mentoring program could be. My goal from then on was to get my PhD and try to recreate the benefits of Campus Connections as a professor. I learned that if I could mentor the mentors, then I could have a positive impact on a larger audience."
Jordan has certainly been an incredible volunteer, sharing his wisdom and experience in crafting a more comprehensive evaluation plan!
When College Mentors started the pilot program in 1996, it took place on two college campuses with 33 local kids being paired with college students. College Mentors for Kids has now grown to 32 campuses in 9 states with over 14,000 alumni across the nation. Our robust alumni network has made so many of our amazing moments possible. Thank you for your past volunteer service to inspire brighter futures for thousands of little buddies across the nation.
We recently sent out a survey to our alumni network to receive feedback, and here is what some alumni had to say:
"It impacted my life so much! I learned so much through College Mentors and 100% would not be the person I am today without it. It has impacted my everyday life and fueled my fire to serve and mentor every day."
"Great memories that I will remember for the rest of my life! I miss it every day."
We want to hear from YOU, our incredible program alumni! If you have not completed the alumni survey yet, please consider taking a few moments to fill it out now. We will use the information to better connect you with your fellow alumni and former chapter.
Mentoring transforms lives: we connect kids to college students through weekly on-campus activities that inspire growth, confidence, and brighter futures.
Be sure to add our email address to your address book or safe senders list so awesome mentoring stories get to your inbox.